Teindre avec des jonquilles – Dyeing with daffodils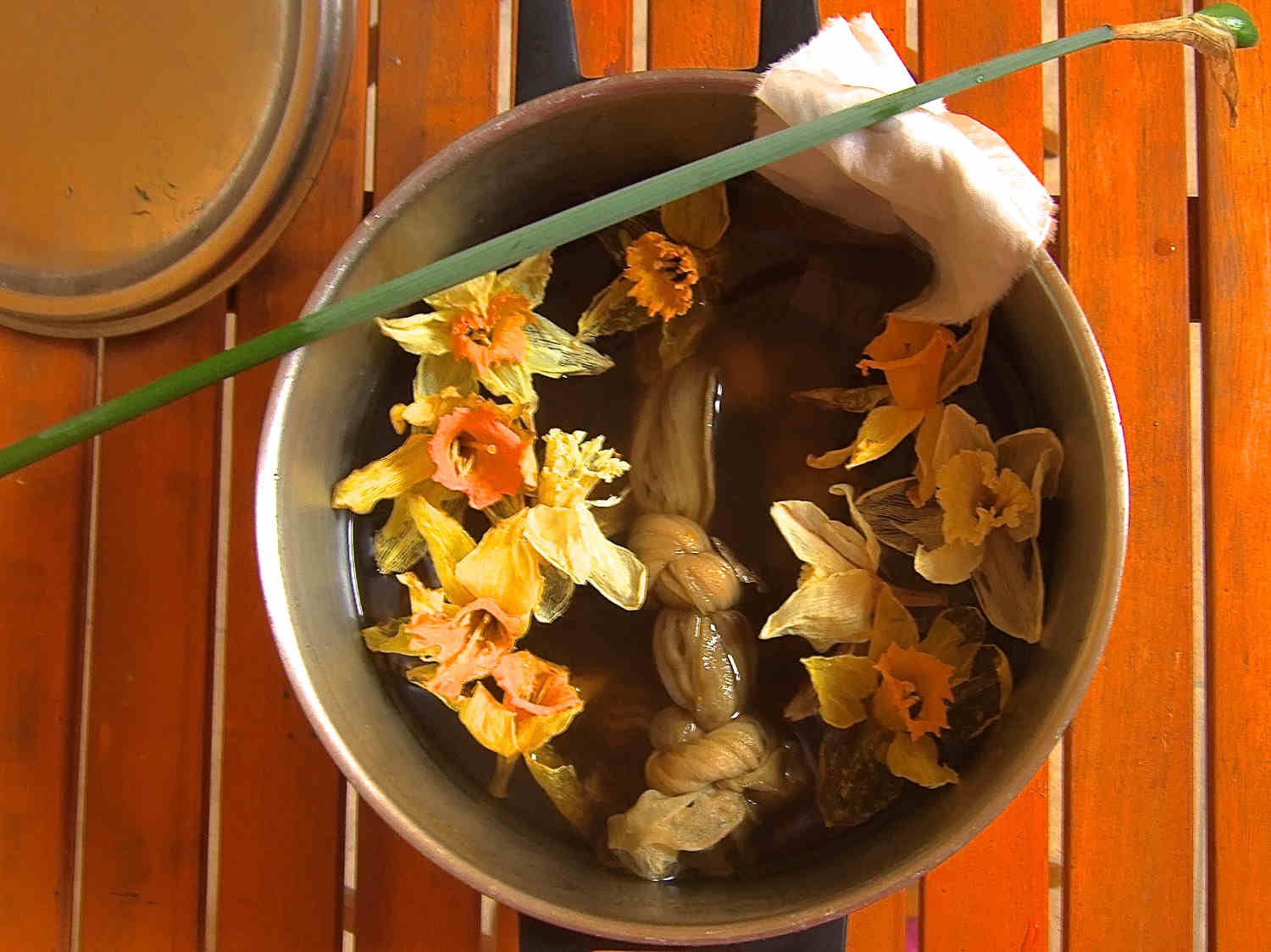 L'année dernière il y avait des jonquilles partout et ceux qui en avaient trop ;) en proposaient aux autres : on en trouvait pour presque rien sur les marchés locaux. Une fois un peu fanées, ces jolies trompettes ensoleillées sont de parfaites invitations pour faire des expérimentations de teintures végétales !
Last year daffodils could be seen everywhere, and those who had too many :) were offering them to others, on local markets. Once a little faded, these pretty sunny trumpets were perfect invitations to make natural dyeing experiments!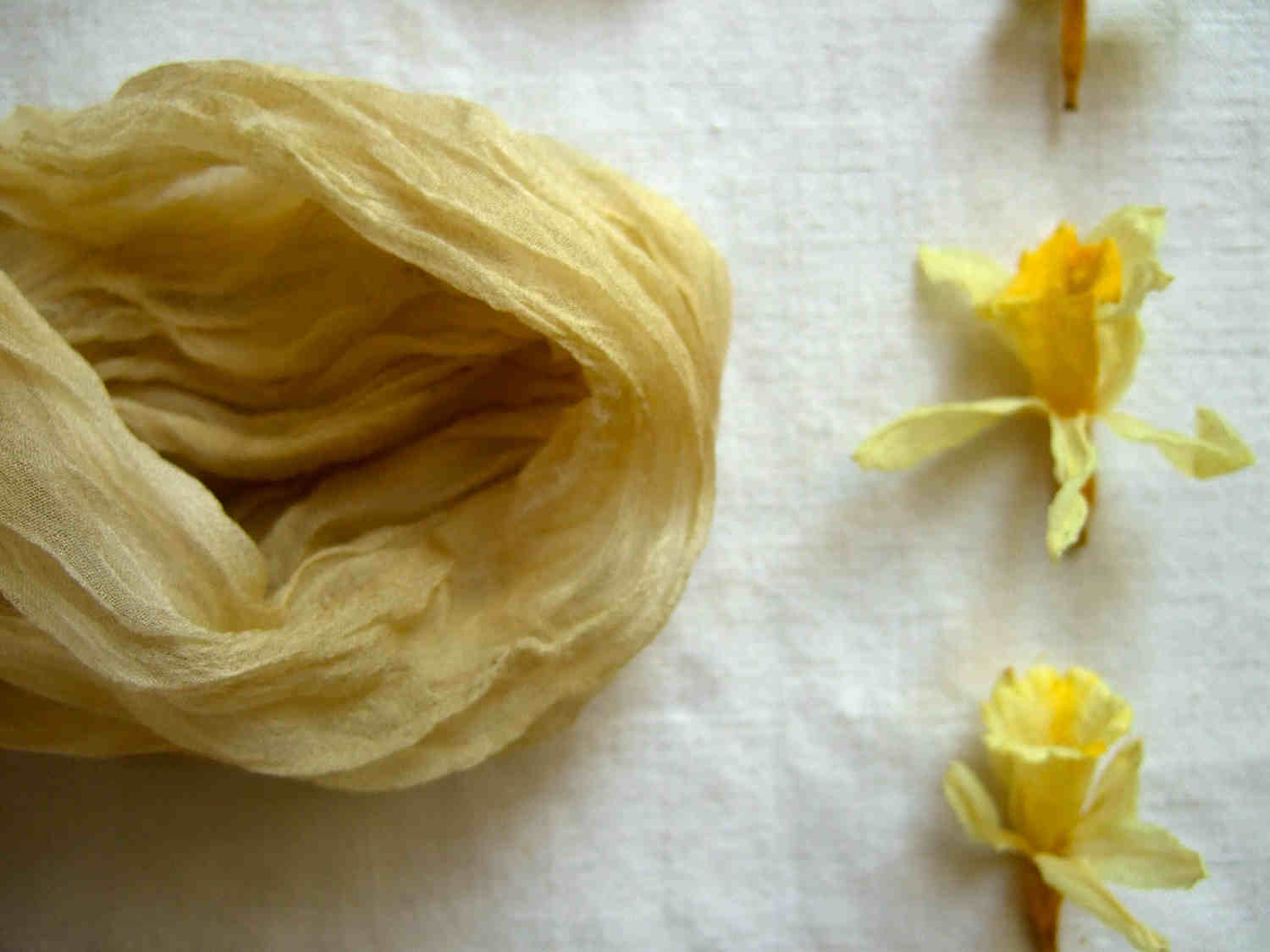 La première chose à dire c'est que la sève des jonquilles est un peu toxique. Aussi il convient de manier les fleurs fraiches avec précaution..
The first thing to remember is that the sap of daffodils is a little toxic so, when fresh, daffodils should be handle with care.
On peut faire chauffer les fleurs dans de l'eau à feux doux pendant environ 30' pour que le liquide devienne jaune doré. Ensuite on ajoute le tissu ou les fils à teindre, avec les fleurs ou sans, si on veut des teintes uniformes.
An easy method is to simmer the flowers in water for half an hour so that the liquid turns golden yellow. Then dip textiles or threads with the flowers, or without for even colors and simmer for another 30 minutes and leave to cool in the liquid. Remember, the longer material stays in contact with the dye, the better it is.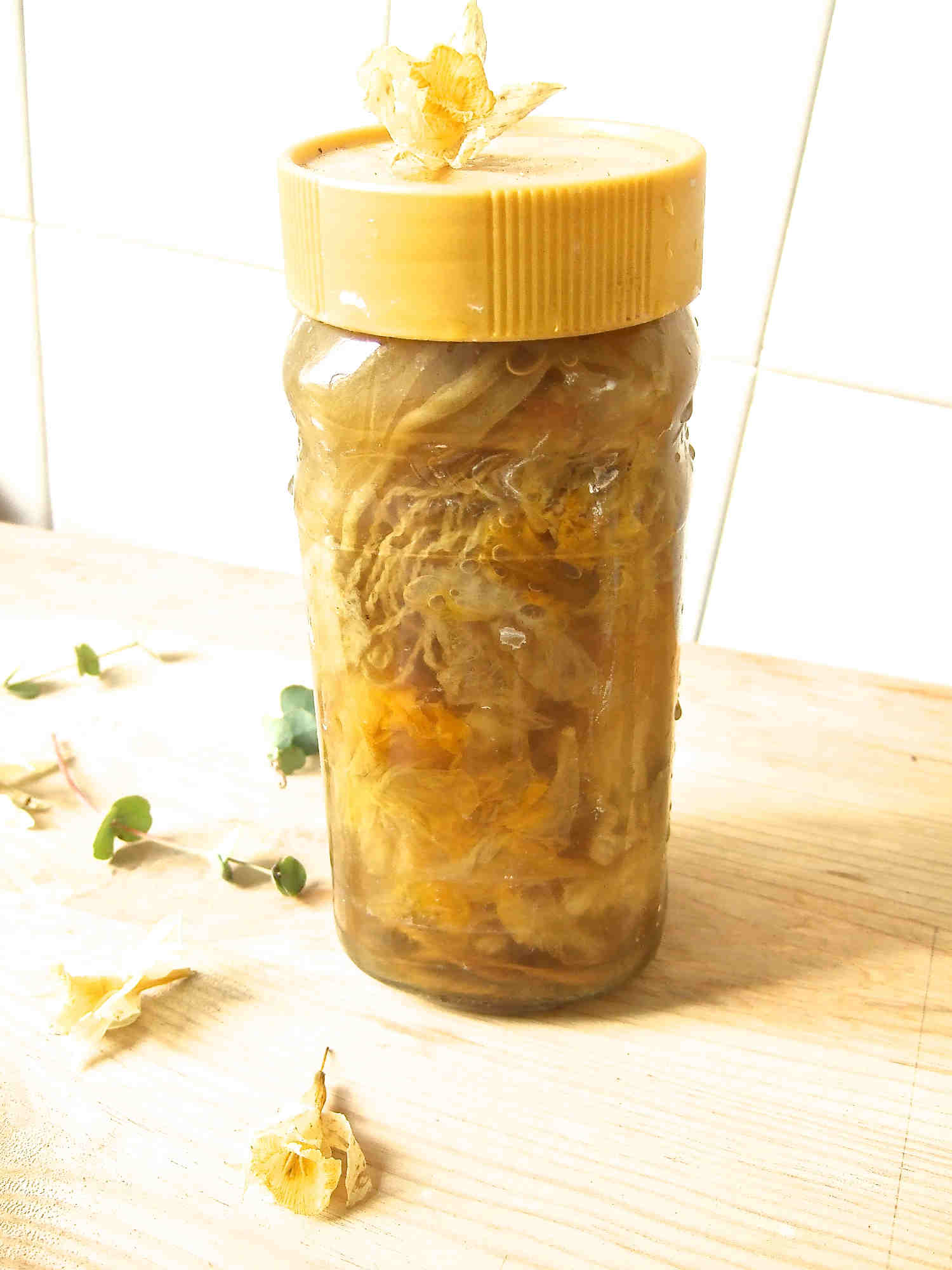 Une autre méthode est la méthode solaire : les fleurs sont mises dans un bocal avec le tissu et rempli à ras bord d'eau, puis laissé au soleil pendant aussi longtemps que la patience le permet ;)
Another method is solar dyeing: the flowers are put into a jar with textiles and threads, filled with water and sealed, then left in the sun for as long as patience allows;)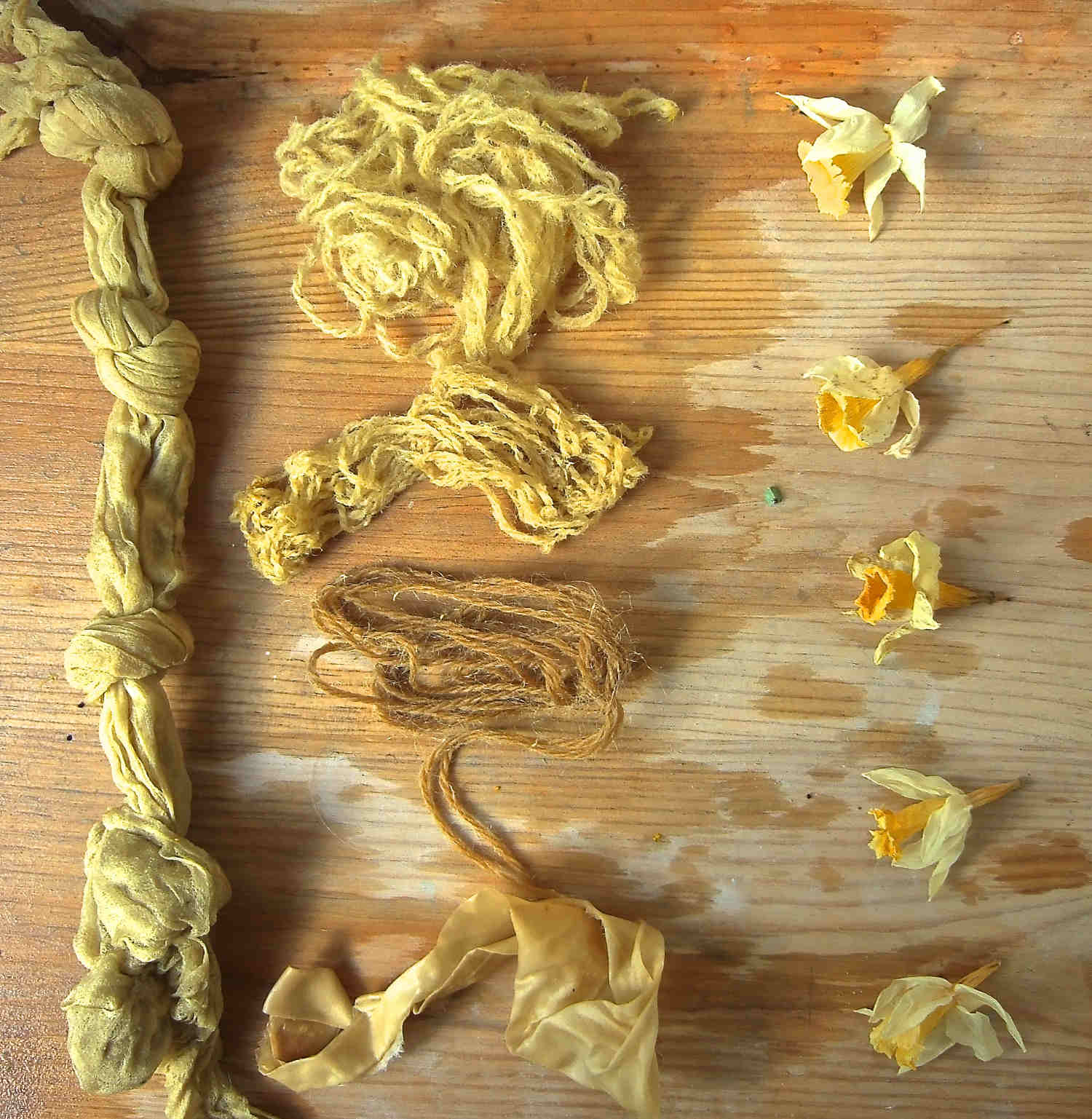 Les couleurs sont différentes selon la nature des textiles et le temps de contact : elles vont de jaune d'or à beige en passant par des tons un peu roux.
The resulting colors are different according to the nature of the textiles and time spent soaking: they go from golden yellow to beige with touches of olive green or rust.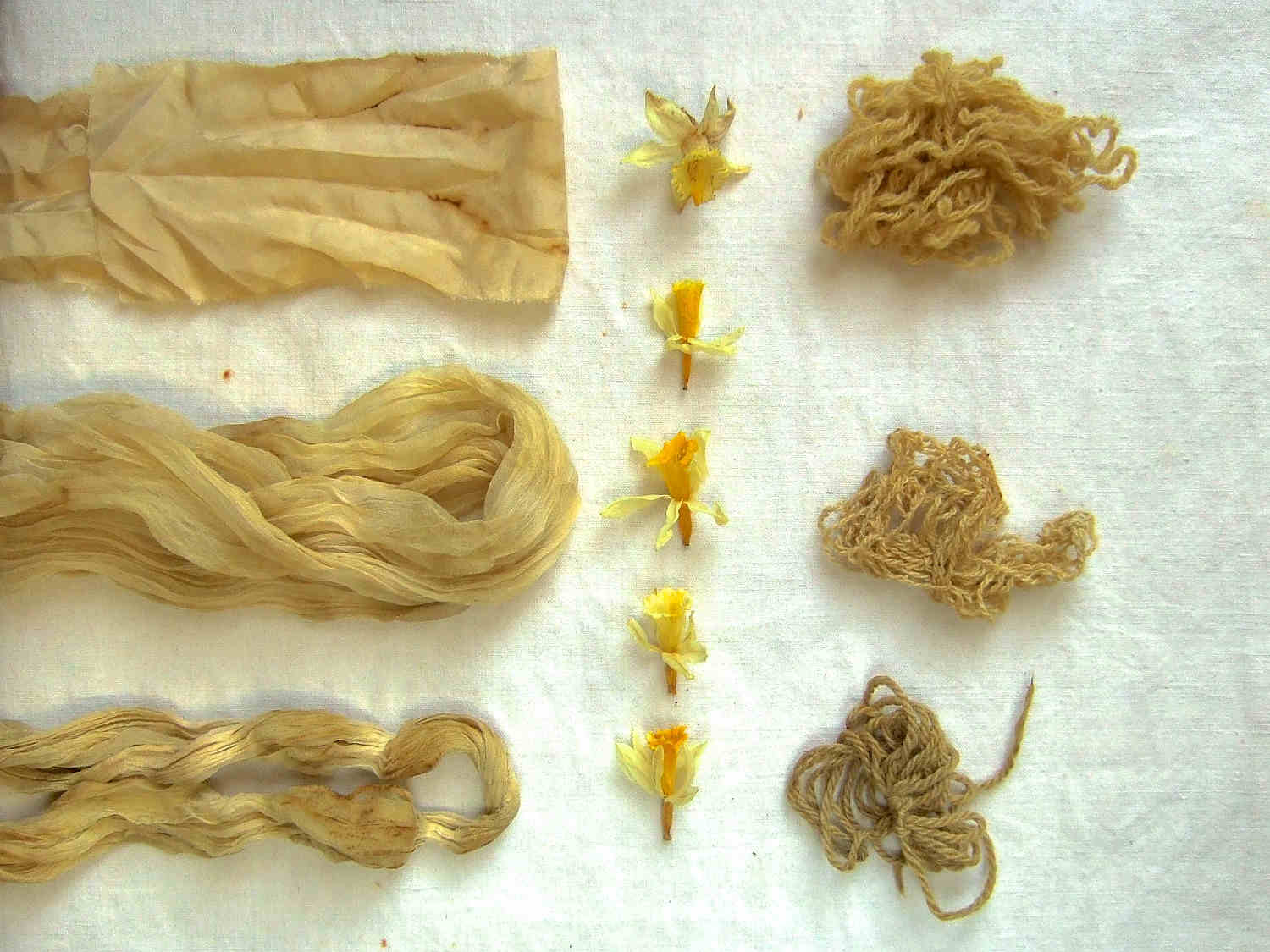 Les résultats des deux méthodes sont assez similaires mais je laisse toujours tremper longtemps alors c'est toujours du slowwww dyeing.
The results from both methods are very similar, well I always use slowwwww dyeing in any case.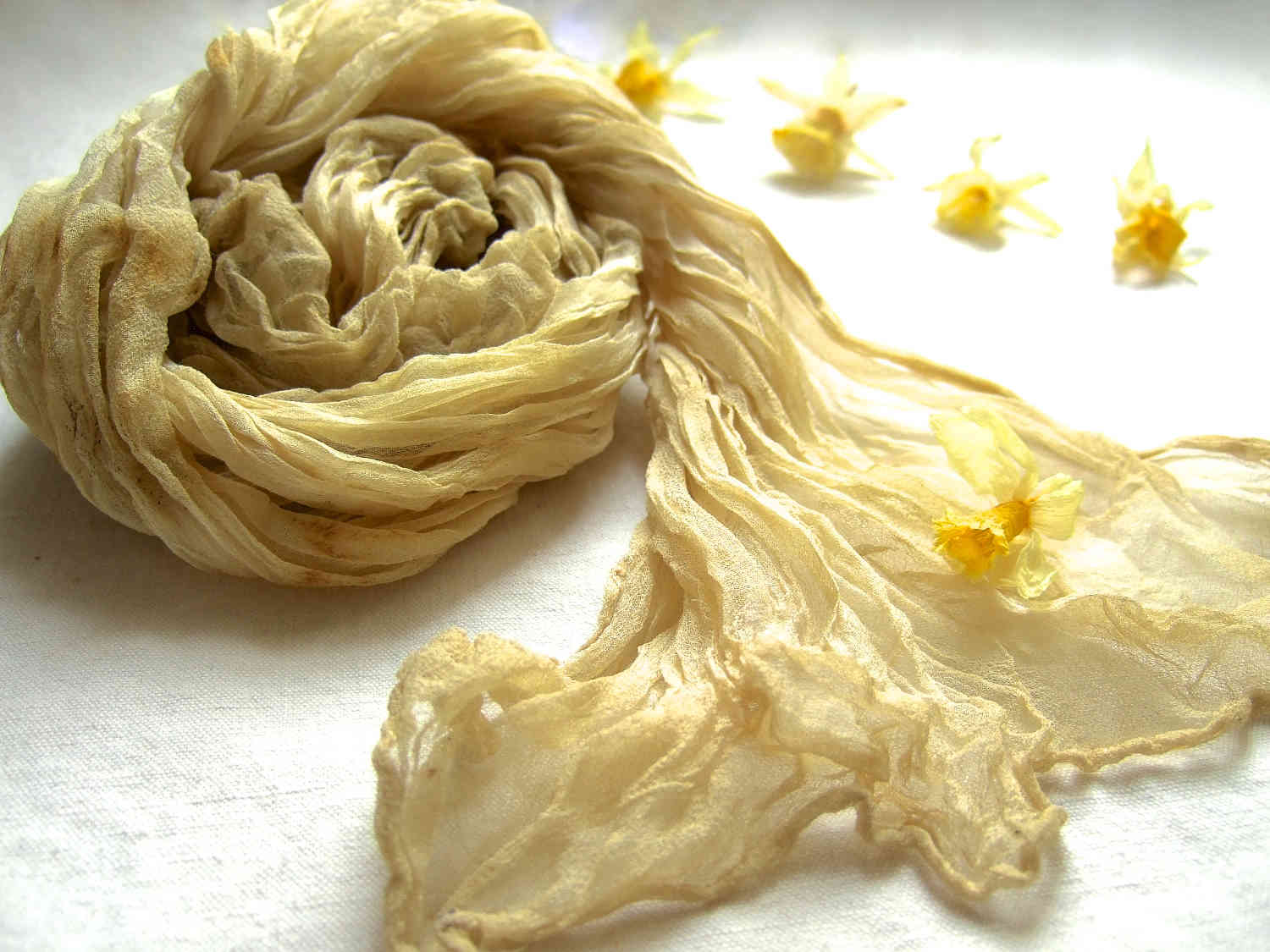 La soie absorbe bien les couleurs naturelles, comme cette écharpe en mousseline de soie. Je pense que je vais la tremper, avant de la rincer, dans ma cuve de pastel pour lui donner des tons contrastés et pour que les teintes soient bien fixées.
Silk always reacts beautifully with natural dyes, like this mousseline one. I migth dip it into my woad vat to make variation and ensure ligthfast colors :)